Google Search Ads have become one of the best online advertising platforms for branding, promotion, and sales across Google Search owing to its ability to filter out the right audience for your products. Billions of keywords are helping in promoting a business despite high-competition. Google is continuously working to protect the privacy of users. 
It is considered a cost-effective platform to generate leads and sales for businesses. There is no restriction on the budget as it allows every kind of business on its platform, no matter how big or small the business is.
Earlier, Google had an option called "Average position" that describes how your ad ranks against other ads, but the same was removed from Google Adwords in September 2019. As of now, there is no option left except the impression share that determines how your paid ads are performing with a set of certain keywords. This may be one reason for the high CPC on searches.
To generate a good conversion rate is no piece of cake unless you follow the right strategies. If you are fed up with your old approach and trying to get good conversion through search ads, then this article can help you understand how to generate leads with five simple Adwords hacks.
Let's move on to the hacks that are still working, and can help you generate a good conversion rate through Adwords.
5 Simple Adwords Hacks That'll Generate Leads
These hacks will assist you to show your ads only to the people who are interested in your products and boost your leads, and thereby the conversion rate. In fact, you will get new cost-effective ways to optimize your campaign from scratch. 
Mobile Responsive
Trends of the Landing pages have been completely changed since Google has prioritized mobile responsiveness as the biggest factor for a good conversion rate. Therefore, it has become crucial for every business to make their website pages mobile responsive as users are rapidly moving over mobile devices. 
About 70% of the whole audience is actively using the Internet. The same percentage of audiences are interacting with online businesses. Therefore, the stakes are high for your business to make a strong online presence and grab a significant share of your respective market.


Mobile responsiveness must be fixed before running the campaign. You have to follow these mobile-friendly checklists, check here.
Test across devices
Test across browsers
Test for page speed
Test for content & graphics
Device compatibility and page speed need to be fixed and make them as effective as possible, as they both play a vital role in engaging the maximum number of users on the landing page. The landing page is the first page that the users' visit and that must open in a fraction of seconds, or else the customer will move on to the other options available on the table.


Device Target
If the majority of audiences are engaging with mobile devices, then it is essential to make changes in bid adjustments for devices. If you are wasting your budget over the desktop ads when the audiences are coming from the mobile, then it is not worthwhile at all. You will have to perform introspection of the campaign to determine which device is recording more conversions. 
Bid adjustments let you increase and decrease the bids for devices and locations. If you are running a campaign and the conversion ratio is good on mobile in comparison to that of the desktop, then the same percentage of mobile conversion can be used for reducing bids on desktop. 


If the mobile conversion is around 60%, then decrease 60% of desktop bids, and if the mobile audience is about 70% (According to statistics), then reduce 70% desktop bids. In some cases, you can decrease 100% of the desktop bid for optimizing for the budget for the mobile device only.
Keywords
Keyword research must be done before designing the landing page. The idea of a landing page majorly depends on the keywords. When we talk about keywords strategy for a campaign, the first things to keep in mind should be competition, volume, and CPC. 
Keyword strategies would define after the deep research of keywords like product defining keyword, customer defining keyword, and geo-targeting keyword.
You can take the help of some famous SEO tools for keyword research, check here. Google keyword planner can also help you to research keywords. It assists you in defining the campaign budget as well.
A broad match modifier is the best option to target each and every audience, but you need to prepare for negative keywords to reach the right audience, otherwise unnecessary search keywords will start flooding. 
Bid Strategy
This is the main part of the whole marketing strategy. It works well only if the above things are well-optimized. Bid strategy decides your entire campaign's budget and also defines your daily budget. 
If the goal of your campaign is to generate leads, then you must click as much in your budget. You have two choices, either set a bid strategy or clicks or conversions. 
However, you can not use a conversion bid strategy (Target CPA) in case you don't have a conversion history. But, you can use clicks bid strategy (Maximise Click) and to define a maximum cost per click bid limit or left as it blanks.
Maximize clicks bid strategy gives an instant result and takes little time for optimization in case everything is optimized.
Location
The target location is as crucial as defining a budget and work similarly. If your location is broad, but the budget is less, then you will not get as much as you are expecting. 
Start to work in certain zip codes, research about the location, and shortlist the zip codes wherever your business matches. Target zip codes as much as you can, especially when you want to focus on conversion rates.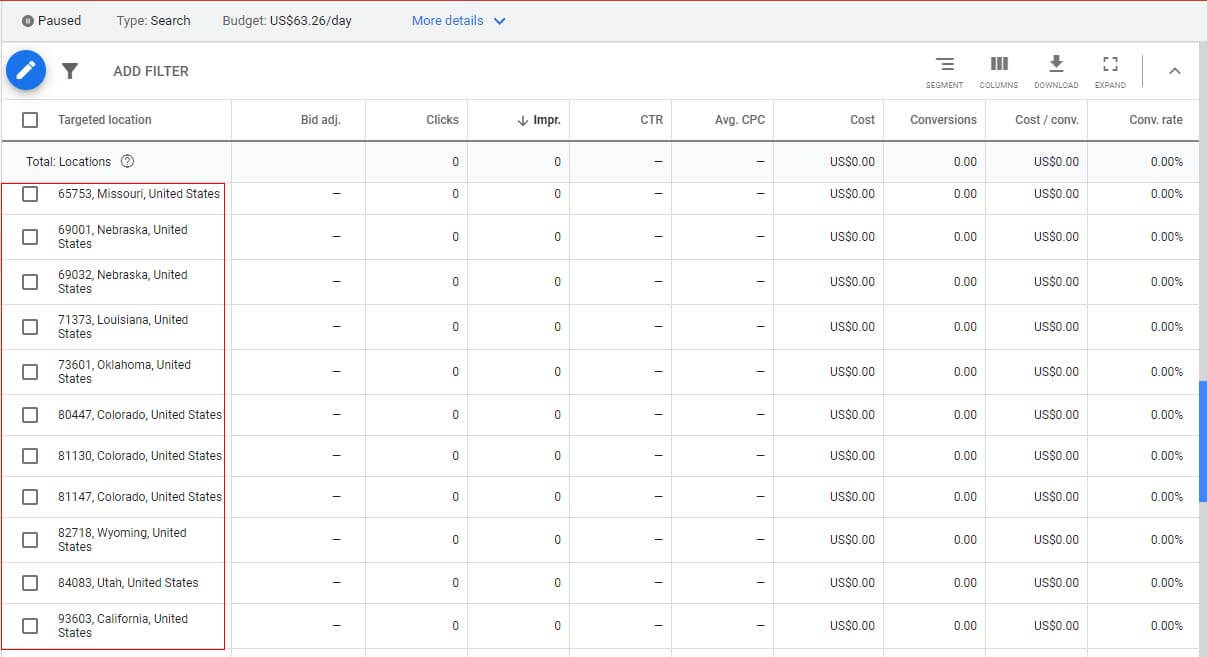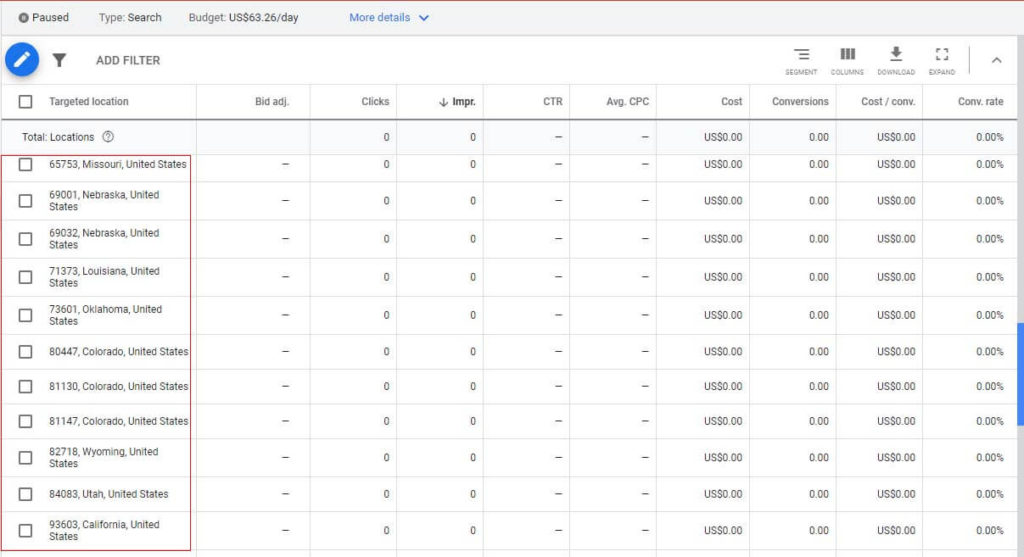 Targeting the entire location is a waste of budget instead of working in tier1, tier 2, and tier 3 cities. In this case, you will get precise clicks, but the chances of conversion could be more. 
Bottom line
The methods can be a game-changer for you, once you start optimizing campaigns on the details mentioned above. Mobile responsiveness is essential to enhance user-experience as majoritarian people are using mobile devices. Broad match modifier strategy could give you some unique audience, and it does work well in case of keywords that have low search. 
Any questions? Let us know in the comment box. Thanks