In this modern times, having an online presence can have a remarkable impact on your business's success. And the first step to building a buzzing online presence is to create a website.
A website is a front door for many of your customers. It is the place where customers will first visit and then make a purchasing decision. But having just a website is not enough. Yes, the quality of a website impacts results. 
So, if you want to turn visitors into customers, investing in a dynamic, creative, and unique website design is a must. To have a quality website, find a web development company in the USA that can create a dream website for your business.
In this post, we'll tell you why you should find the best website design and development services. Additionally, provide a few tips for finding the right web development company for business promotion and success.
Why Should You Find The Best Web Design Company?
Before beginning the search for "the best web design company near me," you must know why you want professional assistance. Here are a few points that will clear things in your head.
You don't have Time to Build a Website:

Designing a website is not a one-day task. It takes time to develop an impactful website that makes your business stand out from the competition. If you don't have time to build such a website, relying on a professional web design agency is the next best option. The right agency will create a website that helps you catch every valuable opportunity in the digital market.

Lack of Experience:

Building an efficient website requires experience. There are different elements on a website that need to be accurate to drive the desired results.

If you don't have the experience, find the best web design company that can do the task for you. 

Don't know how to drive results through a website:

You have a vision of what you want from your website but lack the skills to make it work like that. A website is all about delivering the best experiences to visitors and converting them into customers. Therefore, you need to partner with a web development company that ensures a web design that drives impressive results for the business.
A web development company in the USA can help you create a fully customized website unique to your business. The site will stand out from the competition and offer a brilliant experience to the audience.
How To Find The Best Web Design Company?
Whether you are looking for a new website designed or revamp the existing one, finding the right company for your business is important. Choosing the Best web design company that offers affordable search engine optimization services is the first step to establishing successful digital marketing strategies. 
Here are a few tips to make the selection process of the best web design company a bit easier:
Determine Your Website Needs, Goals, and Budget
Before you start looking out for the best web design & development companies, you must determine what you want your website to be and its features to achieve the marketing goals. Here are some features you may want on your website:
An SSL certificate and HTTPS protocol,

easy navigation,

search-engine-optimized web pages,

conversion-optimized content,

mobile responsiveness,

payment gateway,

easy linkability with email platforms and CRM, and much more.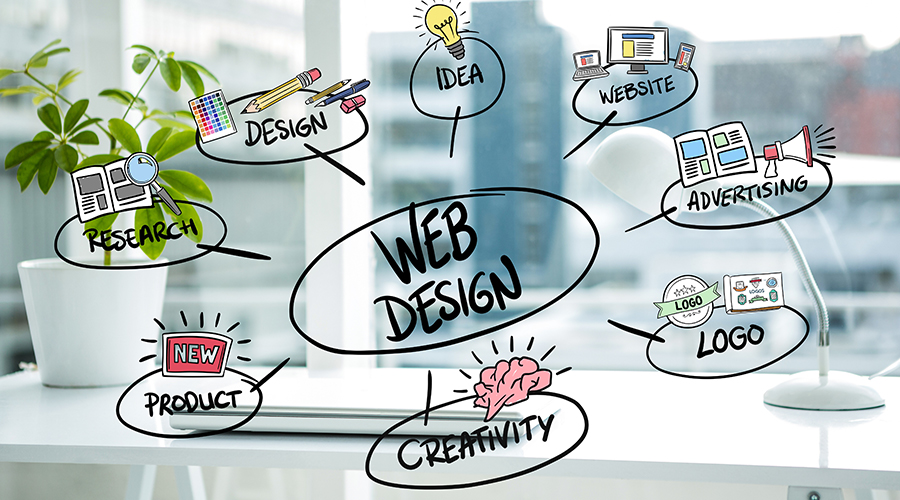 A website acts as a marketing tool that helps achieve marketing goals. Therefore, make a list of all the things you want from the website that further assist you in picking the Best web design company that can customize all of them.
Additionally, it would be best if you also decide how much you are willing to spend on the website design. There is no standard price as the cost of the website will depend on the number of features you want to incorporate into it. 
The budget will determine the level of web design you want and from where you'll get it. Once deciding on a tentative budget, you get a better picture of what results to expect and which company will fit your needs and budget.
Initiate With Online Search
No matter what question comes to our mind, we start finding its answer on Google. Just like that, to find the right web designing company, you can initiate your search on the internet. Using the right keywords like "the best website design company near me" or "the best digital marketing company near me," the searcher can get the list of the top companies to choose from. Start evaluating each company to get the right one for your business.  
Look Over Their Websites
To evaluate each company in the list, begin by visiting their respective websites. Since they are experts in the web designing field, their websites should represent their best work. Review all key factors that define a good website, like color, typography, consistency, imagery, and functionality. Also, consider user-friendliness, how it guides visitors, and how easy it is to find relevant information. Keep an eye for its loading time, mobile responsiveness, quality of visuals, and grammatical errors, as all these impact the site's ranking on SERPs.
If the company's website lacks any of the above factors or looks unattractive and outdated, the same might not be the right pick for your business.
Therefore, cut off the names of the companies that have sloppy and unprofessional websites.
Check Reviews and Testimonials
After assessing companies based on their websites, you have a list of the web design companies on the internet.
Now, it's time to dig a little deeper to pick the best one. To find out what's behind the stunning image of the company, see what its previous or existing customers have to say about it. 
Read testimonials and online reviews of the web design agencies you're considering. It is a great way to see how happy clients are with their websites, the level of customer service they received, and the professionalism and commitment the team members offered. 
You can read the reviews on the company's own website and go for sites like Google, Facebook, and Yelp. A company not having testimonials on its site may not be a good pick. Contact other businesses that worked with the concerned company. Are they happy with their website? Was their experience a positive one? Find out whether they got a website that delivered them the expected result?
The answers to all these questions will help you gain a better insight into the company's work culture, behavior, customer support, professionalism, and reliability. 
Explore their Portfolio
After selecting the companies based on the reviews, explore their portfolio to shortlist further. It is the next best way to evaluate a company's skills and abilities. Look for more than just a beautiful website in their portfolio. Because no matter how good a website looks, if it doesn't offer simple navigation and other crucial functionalities, it will not do much good to a business.
Going through their portfolio will also provide you with a sneak peek into their creativity level, industry know-how, coding abilities, and more. While navigating their portfolio, keep a close eye on the following:
Are the websites responsive and mobile-friendly?

Do they catch up with the latest web design trends?

Do all the websites have a similar structure, imagery, navigation, font, etc.?

How are the websites they created performing?
If a company doesn't have your industry experience in the portfolio, but you like the work, ask them what strategies they have for your business. On the contrary, if you want to partner with someone with your industry experience, ensure that you like the work they do.
Ask About the Content Management System
After all the hard work involved in checking the companies' reviews, websites, and portfolios, your list narrows down to only 3-5 companies. Now, ask each company left in the list about the content management system they use.
CMS, like WordPress, Wix, Joomla, and Squarespace, are website platforms that simplify creating a website. Plus, it gives you the benefit of logging into the backend to add some text, videos, and images on your own. This provides you with more power on your website. Isn't that great! 
Therefore, make sure that the web design agency you are partnering with uses a CMS.
Ask for Pricing
Here, you have to decide whether the agency fits within your tentative budget. By checking out each company's pricing, it becomes easier to determine which company can work with your budget.
The pricing factor significantly depends on what you need on the website. A simple site will cost less than an in-depth website.
Most companies do not have any standard price. You need to contact them, state the requirements, and get quotations. Compare the price of each and pick the one that fits your budget and fulfills your requirements.
Check for Additional Services
Before hiring the Best web design company, check what additional services they offer. As they design a customized site, also find out what other services like SEO, paid marketing, etc., they provide. You may need content writing services to get the website content sorted and search engine optimization services to get the word about your website on the internet.
Therefore, find a website designing company that offers more than just web designing. Going for a full-fledged digital marketing company will help you get everything in one place.
See What Designing Process They Follow
If this is the first time you are getting a website designed, you may not be familiar with the industry. Therefore, you can ask the chosen agency about their web designing process. The very best agency will explain each step involved in website designing and clear all your doubts related to it.
They will tell what exactly they do, how they do it, and how it will benefit your business in the short and long term.
If you are confused with any terminology, don't hesitate and ask them to slow down and explain. This will make your vision clearer and get a web design that can work perfectly for the business.
Things That Make A Good Website Design Company
Are always all ears to your ideas and come up with their own

Create responsive web designs

Have a great portfolio

Keep up with the new design trends, and that shows in their work

Are creative and like to do new things that work

Offer excellent and reliable customer support

Provide website maintenance
Final Words
You may have heard it so many times, and we still like to re-quote that a website is your business's virtual storefront. Where the fast loading speed of the website gets you past 0.03 seconds of doom, a poorly designed web design can still hike the bounce rate. Research says that 38% of visitors stop engaging with a website with unattractive content or layout. 
That's why businesses are rapidly moving to the best web development company in the USA. The right company will deliver a web design to create a fantastic first impression of your brand and business on potential customers.
Blue Astral is one such company with years of experience in creating customized designs that clients love. With our team of web designing and marketing enthusiasts, we focus on creating a customized website that speaks your brand out and works best for business success. If you are planning to get a website designed or revamp an old one, a consultation session with our experts is all you need to get started. 
If you're ready to embark on your journey to digital transformation, contact us at https://blueastral.com/contact-us/