The competition in the business world is quite intense, and if you want your business to make some buzz in the market, then you must incorporate the use of marketing tools for small businesses to improving the productivity of your business operations.
A good marketing strategy and the best marketing tools can scale a business to a new level. As a digital marketing manager, you must keep your knowledge up-to-date about the best marketing tools that can help your business climb the stairs to success.
Organizing work and managing projects sometimes become challenging to handle, and when it comes to making the different departments of an organization work in coordination, it becomes quite tough without the help of appropriate tools.
Therefore, the need for marketing tools arises for managing the day-to-day operations of a business, be it projects, leads, or employees.
Although many tools are available in the market to help you manage even complex business tasks. You might have used some basic tools, but there are more in the technological market that might leave you stuck in awe.
But some tools come after paying a great price and make it difficult for small business owners to have them. Such situations demand the availability of tools that can easily be accessed by small business owners so that they can add efficiency in their business processes.
In this article, we will share some of the best marketing tools for small businesses that can help them stand out from the crowd.

Best Marketing Tools For Small Business
We have listed the best tools that provide daily snapshots of what people are looking for based on your business. You can spark inspiration for content, promotion, or product ideas, and so many other things.
Other than this, you can access these tools according to your business requirements, without paying anything. These tools allow you to use seamless connections from data to metrics on a single dashboard.

SEMrush
It provides you better insight into your company's website in terms of traffic, keywords, and ranking. SEMrush is a highly advanced tool that offers real-time statistics that assist you in framing an effective SEO strategy.
It is the fastest-growing tool in the digital market, and the credit goes to its cost-effective price and highly advanced features. You can also integrate your social media and other tools to manage and monitor websites' key performance and metrics.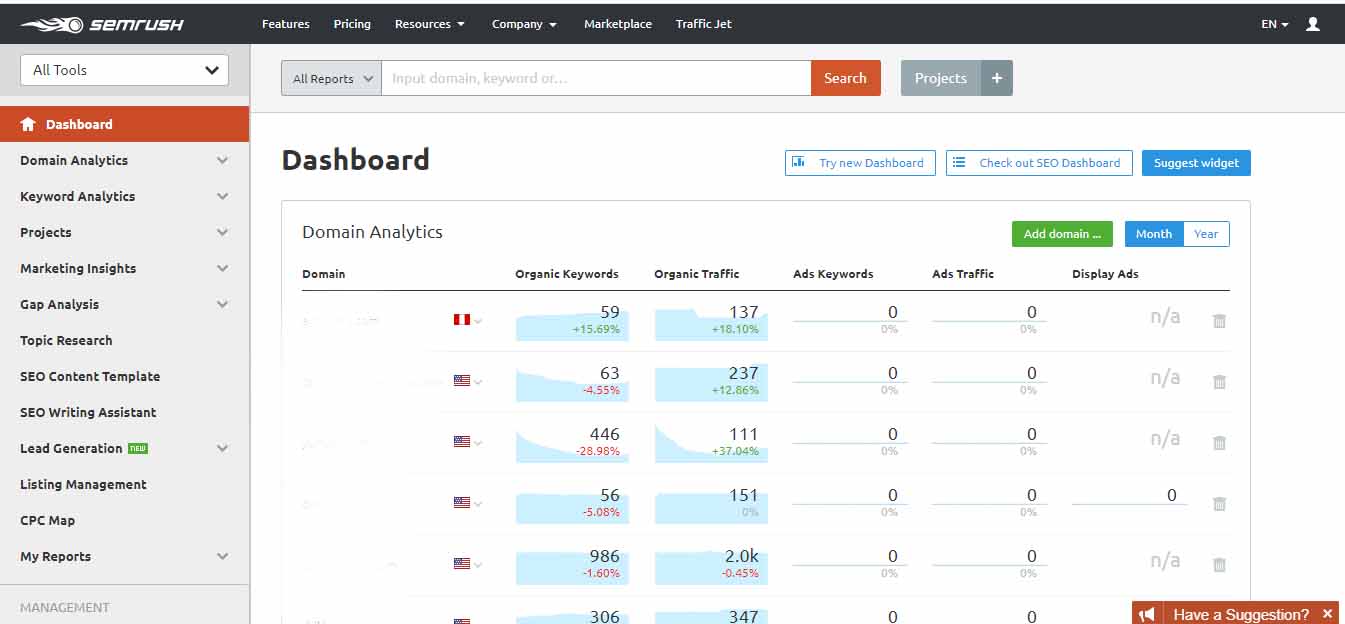 Main benefits:
SEMrush provides keyword research and competitive analysis.
You can quickly create a custom report with the help of drag and drop builder.
You can integrate Google Analytics & Webmaster to analyze your content and site errors.
SEMrush allows you to monitor websites.
You can access the tool for free, but the same will come with limited features. In order to get all its features, you can go for a premium plan. You have to buy the tool to access its premium features.
Pricing:
Starting from $99.

Buffer
Buffer provides a single dashboard for many social media platforms. You can add multiple social media channels on this single platform and publish your posts at the same time on every channel. It will save your time involved in logging separately in each social media account.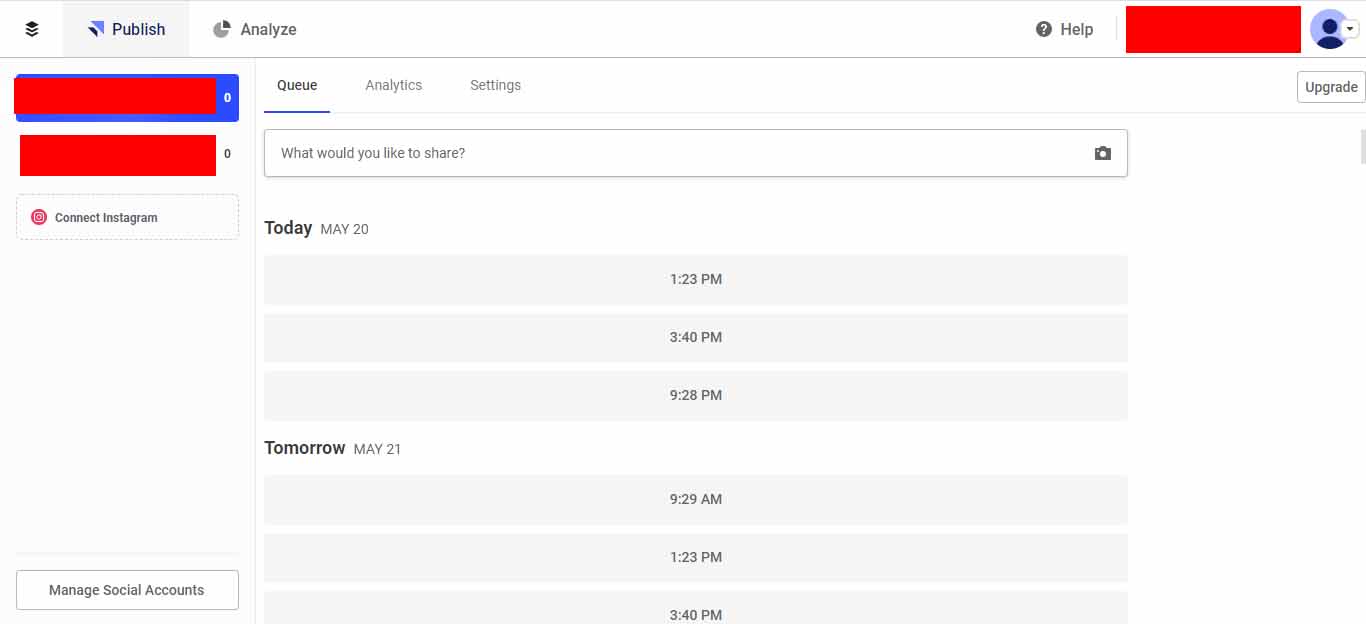 Main benefits:
You don't have to log-in separately to different social media accounts.
Publish social media posts on all added platforms at the same time or at a different time, as required.
The tool can be managed from both mobile and desktop devices.
Buffer free version allows users to add maximum up to 3-4 social media accounts, it considers the best social media marketing tools for small businesses or organizations. If you want to add more channels, then you have to upgrade your plan by paying a few bucks.
Pricing:
Starting from $15

Canva
Canva is the most affordable and accessible tool for content creators. It provides solutions for multiple things like creative design, banner design, logo design, so on. You can easily design creative images by drag and drop.
You can download and share it with anyone. Even with the mobile app, you can access its features.
Main Benefits:
You can design images for your blogs and social media posts.
You can download images in different sizes and formats.
It allows you to access a wide variety of images and clip-art.
You can access this tool for free, but the same will come with limited access. Although its free version will satisfy almost every need, if you want some extra features, you have to buy its premium version.
Pricing:
Starting from $10

MailChimp
Sending promotional emails or emailing your potential & existing customers to inform about your new products/services can take time if the emailing tasks are done manually. To save you loads of effort and time, Mailchimp came into existence. The tool helps you send emails to thousands of customers just at one click.
You can collect email by using an email subscriber popup on your website and send emails to many users at the same time.
Main Benefits:
You can send bulk emails.
It allows you to collect emails from the blog or website.
You can store email by connecting to your contact form.
MailChimp provides a drag and drops email builder.
You can access it for free and can also upgrade the same in exchange for money in order to get features that meet your business requirements.
Pricing:
Starting from $9.99

Cyfe
This is the best tool for people who are in the digital marketing/SEO business. You can add your goals and metrics on a single dashboard to see the results. It allows you to add almost every platform like social media, Google Analytics, Google Search Console, etc. on a single dashboard.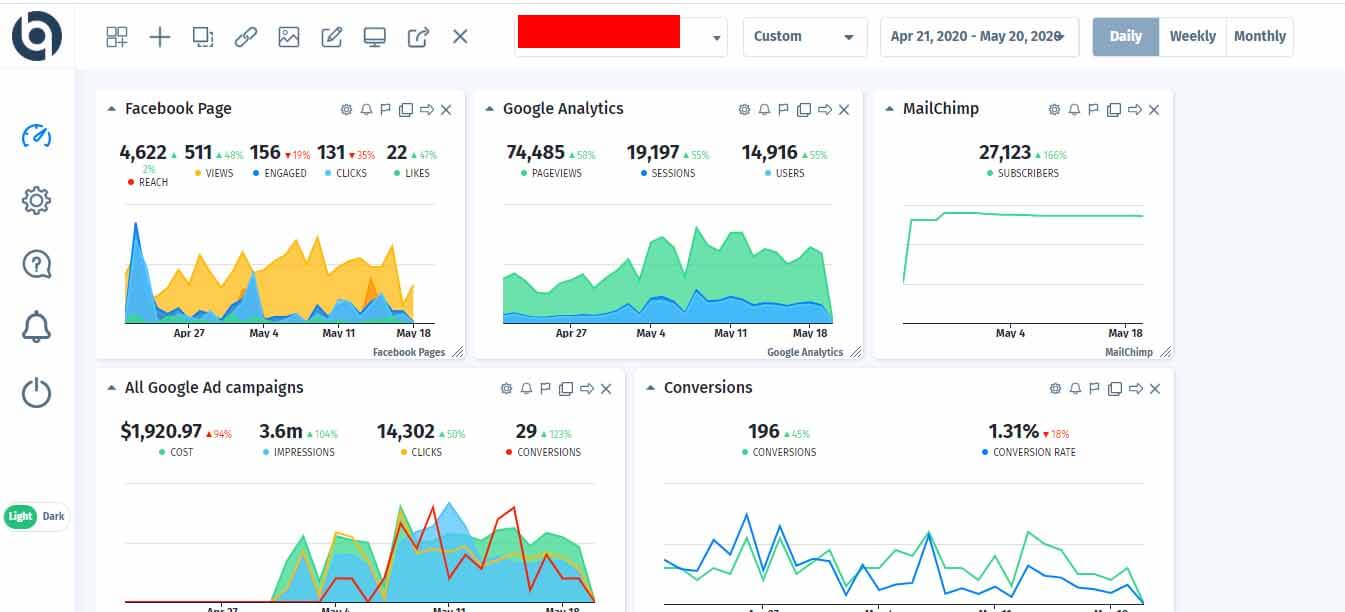 Main Benefits:
You don't need to log in to each account to see the results, and you can access everything from a single dashboard.
It offers an easier way to integrate.
You can share metrics with your team.
It allows you to create reports or download them.
As a marketer, you can use this dashboard for free. For using its premium features, you need to upgrade it.
Pricing:
Starting from $29

Trello
Trello provides you the ability to manage and handle your schedule. You can manage your project and assign different tasks to different people working in different departments across your organization. With this tool, you can keep yourself informed about what's being worked on, who's working on what task, and the tasks that are currently in process.
It is a highly advanced tool that allows you to assign work and to check the status. Each member of your team can create a separate dashboard to organize their tasks.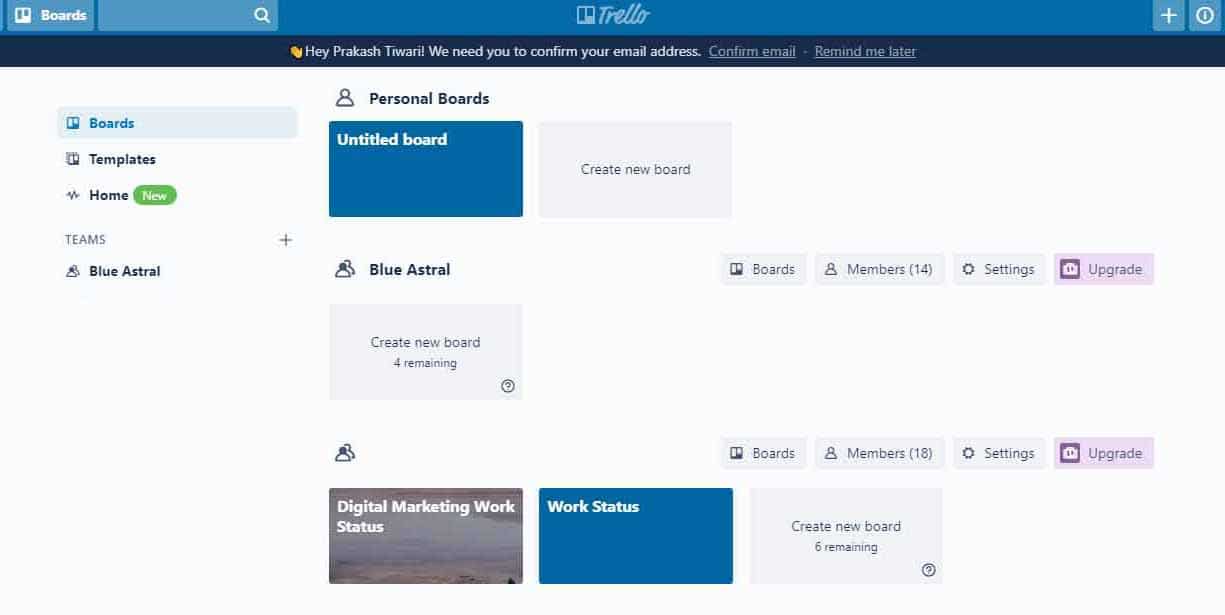 Main Benefits:
You can create a single board for each department.
You can assign tasks and see the current status of each employee.
You can directly message anyone to assign them any project or work.
Trello allows you to attach work-related documents.
You can use the limited features of Trello for free. You can upgrade your plan by paying minimum charges to have access to its premium features.
Pricing:
Starting from $9.99
To sum up
We hope that this article helped you to develop an understanding of the most popular marketing tools for small business and their benefits. Every tool mentioned above provides free access to their limited features to people who want to mark their brand at the top of the competition curve. You can scale your business to a new level after using any one of these tools.
The tools will help you manage, schedule, and organize all your current as well as future business needs. Also, these tools are easy to use, low-cost, and simple to access on all devices—no matter where you are.