To sustain in the competitive market in the long run, it is crucial for every business to make a robust online presence. It is not difficult to build a strong online presence, but it takes longer than usual time for a website to boost its visibility. In this pandemic situation, how to engage with the audience and give them prompt support is the biggest question. It's a bit complicated, but not difficult to enhance your online presence and trust among the customers in a short time. The customers are moving rapidly over the internet, and everybody intends to get services in one click.
Is this the right time to build an online presence? The answer to the question is simple as the lockdown has made it difficult to open an offline business as most customers instead of stepping out of their homes, finding solutions to their requirements on the internet. Therefore, we, as a leading digital marketing company, are working round the clock to serve our customers with the best SEO services even though our team members are working from home. By helping our customers in this tough time, we ensure that procurement, consignment, and essential commodities are timely delivered.
On this page, we'll assist you in finding the best option for your business. You'll get to know how to revamp the marketing strategies and build an online presence so that you can remain in touch with your customers.
Best Ways to Build Online Presence
The entire world is locked down amid coronavirus, and it is important to maintain social distancing to keep ourselves safe from the contagious virus. But in such a situation, keeping business information updated is important so that customers can remain in touch with your business.
An online presence is vital for every business to nurture long-term in the market. Branding is compelling for any business as netizens are getting smart, and they're looking at those services whose online reputation is the best on the Internet. We're recommending a few steps, which can be useful for your business. Read the full article for a better understanding to combat this challenge.
Local SEO
Local SEO is considered one of the most important and best online marketing strategies to create brand awareness among customers. You can drive local customers towards your business as well as build a strong presence on search engines. Hire an SEO expert and get started to build your online presence amid restriction.
Optimize your website
On-page optimization is a vital part of the whole website SEO as it allows you to make a presence on the search engine result pages. Your website's pages appear in search engines in an improvised visual way when you use proper meta tags.

You need to do on-page SEO of your website's pages from top to bottom to boost their rankings on SERPs. Follow these SEO checklists:
Description
Page Title
Page Keywords
Interlinking
Page Speed
Sitemap & Robots
Snippets
Open Graph
In addition to the On-page SEO, make your website mobile-friendly so that it can drive maximum mobile traffic to the landing page.
Google Business Listing
Google business listing is considered a cost-effective and agile platform to get engaged with your local customers. GBL allows you to promote your business on Google maps, which is one of the hot services for many users around the world. It not only gives you information about the location but also provides you the ability to find a business nearest to your present location. The business can be listed on GBL free of cost, but you have to incur expenses for your business promotion.
GBL allows you to list every kind of business, be it a restaurant or a beauty parlor. The customers can directly contact you through email or call, and they can also provide their opinions through reviews, ratings, and suggestions.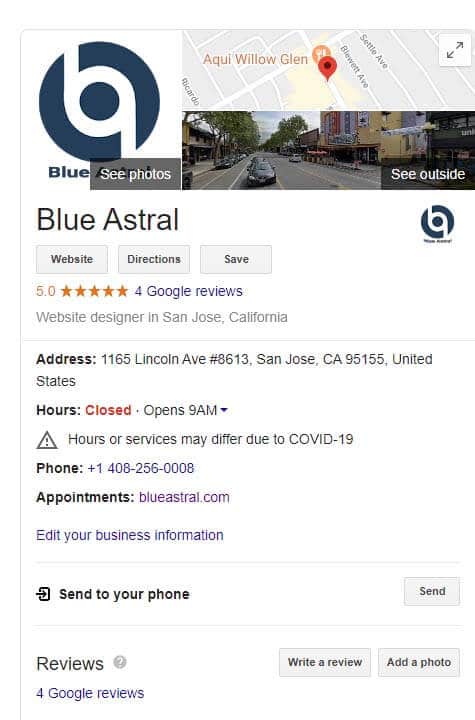 Local Citation or Listing
It is the best way to get customers on a local search. It is widely used for local businesses like lawyers, doctors, electricians, laundry, and so on. You can use it along with Google's business listing. Local listing is an easy way to list on local searches. You just need to collect these pieces of information about a company.
Name.
Phone number.
Permanent address.
Website.
Official mail ID
You can list your business on every possible local search. Here, we are listing some of them:
Yelp
Yellowpages
Facebook
Superpages
MapQuest
The major part is to keep business time and services updated. Apart from this, keep posting updates on social media about the existing and newly launched products and services.
Social Media Marketing
Social media marketing is one of the most effective platforms for business promotion. You can start to promote your business on a limited budget and boost your sales. Social media is recognized as the best platform for branding and promotion.
We all know that Facebook and Instagram have a huge audience, working in different niches, and this is the reason why every startup and high-end companies are promoting their products and services on these social media channels.
According to statistics, every person spends an average of one and a half hours on social media. Now, the average time spent may have been increased due to the lockdown situation.
Also, Read: The Best Way To Generate Qualified Facebook Leads In 2020
There are two ways to promote business on social media.
In an organic method, you must have the audience to drive benefits from the page, or else you need to build followers first, then work on the page to boost customers' engagement.
In the case of paid promotion, you will get an instant audience as per your expectations. But, the quality and quantity of targeted traffic will also depend on your marketing budget. Facebook does provide thousands of filters to filter out the best audience for your page. Also, you can promote your business in whatever way you want, like leads, Page likes, Engagements, and Conversion.
Search Engine Marketing
We choose search engine marketing because SEO takes time for showing results on search engines. On the other hand, paid marketing gives an instant result. If you want to reach maximum users, then SEM will be a good option for you. It gives you the flexibility to set the budget as per your business requirements.
Also, Read: 5 Ways To Generate Leads Through Adwords
In SEM, you can promote your business and services through Google Adwords, Bing Ads, Yahoo Gemini Ads, & so on. There is no restriction on the budget as there are certain online advertising platforms that allow every kind of business to do its promotion, no matter how big or small the business is. Initially, you can choose to do the promotion on Google Adwords. It gives you flexibility in the budget and has become famous across the internet. Google possesses about 80% market share in the case of the audience.

Bottom Line
If you have not used any of them for your online business, then it's time to get started. An online presence is a key to success in the era of the modern Internet. The competition is getting intense as the majority of businesses are coming on the internet market to grab a big share of their targeted audience. About 80% of the population in the US is using the internet, and the numbers are growing rapidly.
Choosing the right marketing strategy plan to make a strong online presence is crucial to let your present and potential customers get in touch with your business. Follow these guidelines to not let anything come in the way of your business. Please let us know if you have any concerns about your business and reach out to us if you have questions or need help.