Facebook Creator Studio is an essential tool for your Facebook pages as it allows you to track as well as manage your content performance across different pages, in case you have more than one. The additional benefit that the tool provides is the ability to post directly on Instagram by connecting the app to your Facebook page.
The tool provides you a fantastic dashboard that helps you to develop valuable insights from your content like videos, chats, and others., whether the content is on Facebook or Instagram.
This article will help you out to develop an understanding of Facebook Creator Studio. Also, we will help you to post from Facebook to Instagram using this tool.

What is Facebook Creator Studio?
Facebook creator studio is a one-app solution for influencers, digital marketing experts, and branding agencies. It was launched in the mid of 2018 by Facebook to manage Instagram and Facebook on a single dashboard, but later, many other brilliant features were added to this tool.
With this tool at your end, you don't need to use any third-party tools to post and manage Instagram. It will provide you with a stunning single dashboard to manage multiple activities, such as post, manage, monetize, insight, and so on.
Apart from the amazing dashboard, another best feature you will get in this tool is the sound collection. There are two types of sound formats – track and effect, and you can download them in any length and size and use them in video creatives for your feature posts.
Facebook has consolidated two essential features of its platform in creator studio, Facebook feed, and an Instagram feed. The consolidation helps many influencers and digital marketers to post and manage the feed of both platforms with the creator studio.
One thing that must know before using the tool is that it works with a Facebook business manager, and in case you don't use it or don't have one, then first, you must create a business manager account that will help you to manage the creator studio tool effectively.

Features Of Facebook's Creator Studio
If you have a Facebook's business manager, then you can easily use and manage Creator Studio. There are two views on Creator Studio's dashboard:
Facebook
Instagram
Let's streamline the features of this tool, one by one from scratch. Here are the salient features of Creator Studio.
This is the home screen of Facebook Creator Studio, and if you look at the left side, you will find all its features. The image shows the default front-view of the tool.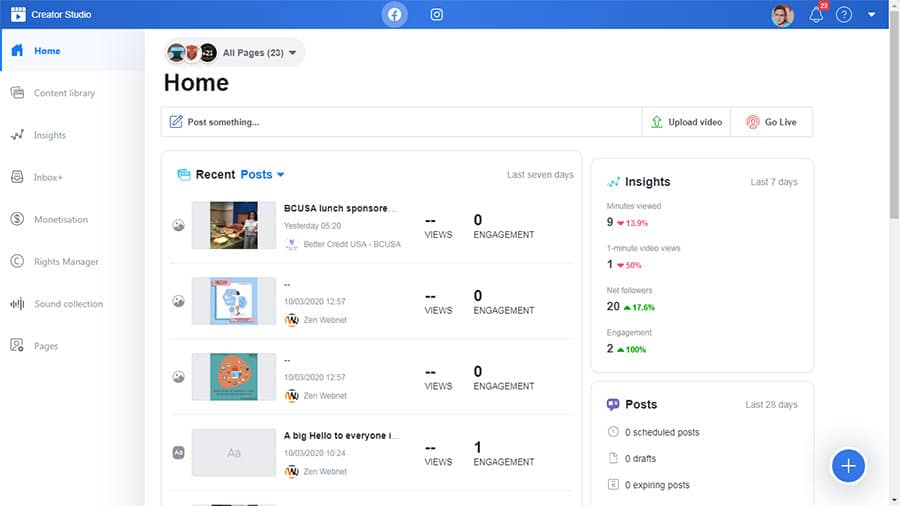 Content Library
Inbox
Insights
Monetization
Rights Manager
Sound Collection
Pages
Content Library: The feature provides you various options like post, cross-video, playlist, and posts timeline that helps you to simplify activities, such as post, schedule, draft, and so on.
Insights: With this feature at your end, you can effectively track & analyze all your top pages and post. You can see who watches your videos and how many followers are added on the page. Also, you can check retention, audience, and earnings.
Inbox: Here, you can manage messages and notification of the pages; also, you can reply to messages in one click.
Monetization: This is the best tool for content creators and publishers. You can earn money on Facebook with different monetization. But, you have to complete the page eligibility, then your page will be optimized for monetization.
Sound Collection: The feature is recently added by Facebook for content creators. It helps you to access more than thousands of free music and sound effects and that too in different sizes and lengths.
Pages: This is also an excellent option, which was added for creating new pages along with assigning roles to the employees.
Below is the home screen of Instagram features in Creator Studio. You can switch the screen from Facebook to Instagram's view by clicking on the Instagram icon available on the top head of the dashboard.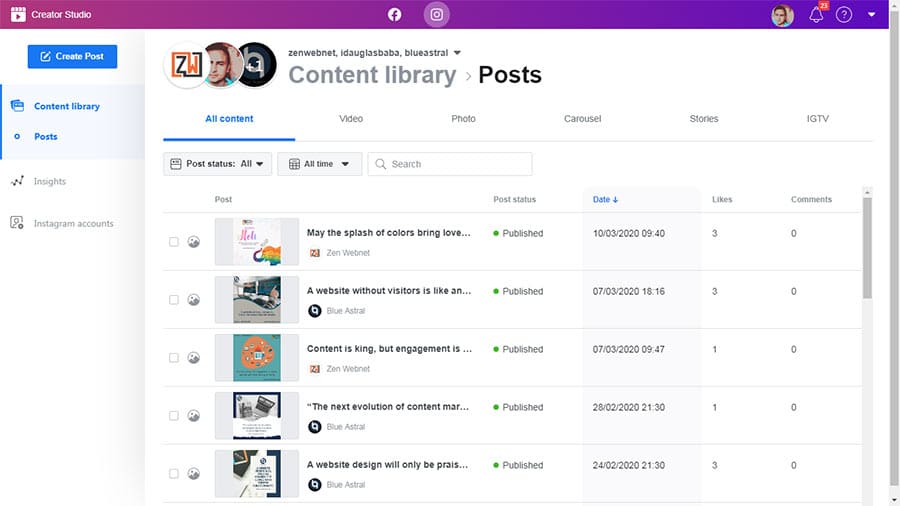 Content Library
Insight
Instagram Accounts
Content Library: From here, you can see Instagram's feed, such as images, videos, carousels, and stories. Apart from this, you can also check all published, drafted, and scheduled posts by using the specific date filter and others.
Insight: Whatever account you have added or using through Business Manager, you can check insights of that Instagram account, such as like, impression, profile visit, and so on.
Instagram Accounts: From here, you can access all your accounts and add new accounts trouble-freely. This is easy for everyone to use.

How to Post On Instagram And Facebook Through Creator Studio?
Posting on Instagram and Facebook becomes a piece of cake if you do the same through a Creator Studio. As mentioned before that for using Creator Studio, you need to create a Business Manager account and then add Facebook pages and Instagram accounts to it.
After that, you can be able to post through this tool. Once all the things have bee set, visit here-
Facebook Creator Studio.
On Facebook
By default, you will get Facebook's dashboard. Now, let us tell you how to post.
At the right-hand side bottom of the page, you will find an icon like "+," click on that to post, or schedule as you do on the Facebook page or you can also click on "Post something…" option which you can easily find below the Home section.
On Instagram
If you want to post on Instagram, then first change the default dashboard from the top header (as already mentioned above). Now, go to the left side top corner and click on "Create Post," choose Instagram feed, select your account, and then do the post as you do on Instagram.

The bottom line
This is the best tool that saves time and money for creators as well as publishers. You can use it as an individual or as an agency, and avail the incredible features like monetization and insight.
We hope that this article will help you understand how to use Facebook Creator Studio, and in case we have missed anything, please let us know in the comment section below.