Facebook recently announced its plan to launch its very own cryptocurrency called Libra. Though slated for launch in 2020, Libra has already created a lot of buzz in the market. Given Facebook's reputation of disregarding the privacy of its users, Libra has come under major scrutiny. The launch of this currency is expected to have a major impact on the world economy.
If you aren't aware of what Libra is all about and how it is likely to function, then it is time to update your knowledge. Here is a look at all that you need to know about Facebook's Cryptocurrency Libra.
What is Libra?
Libra cryptocurrency is represented by three wavy horizontal line Unicode character ≋ . Libra is expected to be quite similar to the cryptocurrencies that have already been floated in the market. It will exist purely in digital form, just as other cryptocurrencies. Its transactions will be registered on the blockchain, a software ledger where other cryptocurrencies' transactions are also recorded.
The Libra blockchain, which is likely to become a fully open system in the times to come, shall initially be managed by the Libra association's founding members. Libra's value will be based on certain assets. Though it is not yet clear what these assets would be, it is being speculated that there may be a person's bank deposits, government securities, and the likes.
How will Libra Work?
Libra will allow you to purchase things online and also let you send money to others. The transaction charges are expected to be nearly zero. You will be able to purchase or cash out Libra online. You will also be able to do so at local grocery stores and other places. You shall be able to spend it using the Calibra wallet, which is Facebook's own wallet. It will be integrated into Whatsapp, Facebook messenger as well as certain other apps.
In simple words, you can trade your local currency for Libra. You can spend Libra just like any other currency without revealing your real identity or paying any big transaction charge. You can cash it out as per your ease.
Libra – Expected to be a Stable Coin
Libra is expected to be largely stable, unlike many other cryptocurrencies that are quite volatile. This will help build trust among the traders. It is thus likely to be a preferred medium of exchange.
Libra Incentives
To encourage a greater number of developers and merchants to work with Libra, the Libra Association is planning to issue incentives in the form of Libra coins. These coins shall be issued to the validated node operators who encourage people to use Libra. Wallets that pull greater users and keep them active for more than a year shall also be given incentives. These businesses will have the option to keep the incentives to themselves or distribute them among the users.
The Libra Association
Libra is being launched by Libra Association that Facebook has co-founded. It is based in Geneva, Switzerland. The country is known for its strong support for financial innovation.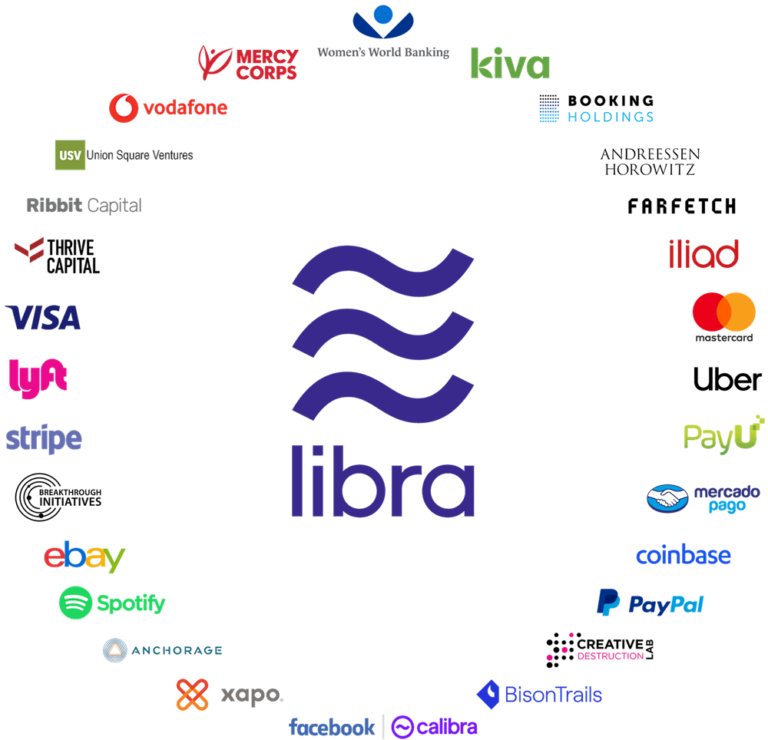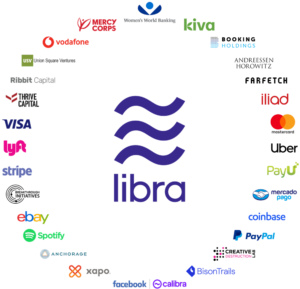 The Libra Association aims to empower billions of people without bank accounts to use the currency and make easy transactions. Libra will facilitate easier and cheaper online money transfers. The supply of Libra is expected to increase or decrease depending on its demand. The Libra Association will create more of this cryptocurrency in case it receives a good response. Else it will stop generating it and even destroy the existing ones.
The founding members paid a minimum of $10 million to gain a vote in the Libra Association council and become a validator node operator. This has also entitled them to a share of dividends earned from interest.
Founding Members of the Libra Association
Here is the list of the founding members of the Libra Association. The names have been mentioned category wise:
Technology and Marketplaces: eBay, Facebook/Calibra, Mercado Pago, Spotify AB, Booking Holdings, Farfetch, Lyft, Uber Technologies, Inc.
Blockchain: Anchorage, Bison Trails, Xapo Holdings Limited, Coinbase, Inc.
Payment: Mastercard, PayU, Visa, Stripe, Paypal
Telecom: Vodafone Group, Iliad
Venture Capital: Breakthrough Initiatives, Union Square Ventures, Ribbit
Capital, Andreessen Horowitz, Thrive Capital
Non-profit and Multilateral Organizations and Academic Institutions: Kiva, Mercy Corps, Creative Destruction Lab, Women's World Banking
The number of founding members is expected to increase to 100 before the launch of Libra. The Libra Association is open to take anyone on board, provided they met the requirements.
Calibra
Facebook is planning to launch Calibra to demarcate social and financial data. Calibra, a regulated subsidiary, will run a digital wallet. It will manage Facebook's crypto dealings and also protect user privacy. Calibra will ensure that Libra payments are not minced with Facebook data at any point in time.
Calibra is expected to come up with different products and services based around Libra. It will also manage Libra integration with other Facebook products. The authorities shall regulate Calibra. It aims to bar the issue of money laundering and other unsolicited financial practices.
The Libra Reserve
Every time someone cashes in their local currency for Libra, the money will go into the Libra Reserve. An equivalent amount of Libra shall be given to that person in return. In case someone cashes out from the Libra Association, the Libra they return shall be destroyed, and they shall be given an equivalent amount of their local currency.  This implies that there will always be a 100% value of Libra in circulation.
The Libra Blockchain
Each Libra transaction will be registered in the Libra blockchain, which will serve as a public ledger. The speed of this blockchain is such that it will be able to register 1,000 transactions per second. Nominal charges would be levied on the Libra transactions.
A transaction, once made, will not be reversed. The Libra blockchain is currently permission. Only those entities that fulfill certain criteria can control the governance of blockchain. This type of system is vulnerable to attacks. This is why Libra Association aims to shift to a permissionless system that will distribute control and protect against attacks. Though permission at present, the Libra blockchain is open source. It has an Apache 2.0 license. Any developer can use the Move coding language to develop apps that work with it.
Facebook shall Not have Direct Control over Cryptocurrency.
Facebook is a member of the Libra Association. Vodafone, eBay, Uber, Paypal, Visa, MasterCard, and Mercy Corps are the other founding members of this association. While Facebook will be actively involved in the Libra project launch and run the Calibra wallet, it will not have any direct control over the cryptocurrency.
All the founding members will have equal roles and responsibilities after the launch. Thus, Facebook will get a single vote in Libra's governance, just as the other members. This should help build trust in the currency. The regulators and governments of different countries around the world are keeping a watchful eye on the developments of Libra. They are quite skeptical about the launch of this new cryptocurrency. The Libra Association might have to go under stern interrogation to seek a permit to float this currency in the market.
Interested in knowing more or have any questions, reach out to us.