A strong online presence is one of the main building blocks for a successful business. In times of ever-increasing competition in various industries worldwide, it is imperative to create a unique brand image to stand out from the crowd. A good digital marketing and SEO agency helps establish a unique identity and works hard to maintain it amid fierce competition.
The growing demand for digital marketing services has given way to numerous SEO and digital marketing agencies, making it difficult for organizations to drill down to one. Shared below are a few tips to help you choose the right SEO agency for your business:
Get help from Google.
We know your inbox is full of SEO proposals. Choosing the best service is very complicated. We let you know how you can get a good SEO agency. Don't believe in ads or email proposals from any company rather than organic results means if any company's services are not ranking well on Google, they can never give you the rank you want.
If you need a reliable agency, you can search your service on Google, something like best SEO company in San Jose, digital marketing company in San Jose, a web design company in India, etc., then look there which company's services are ranking in Google's first page.
If you have picked any company, then the first thing you must do is check whether they are ranking on the 1st page of Google or not. If you found them on a search engine where you want to see yourself, you can rely on them as they know better SEO and can guarantee you the best result in committed time. Otherwise, you will be duped.
Result -1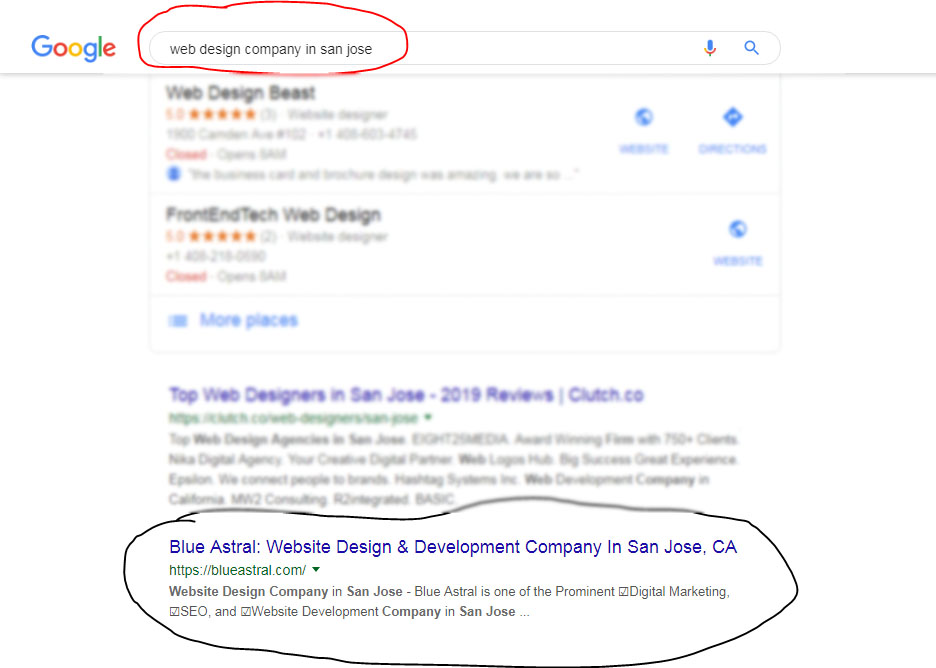 Result -2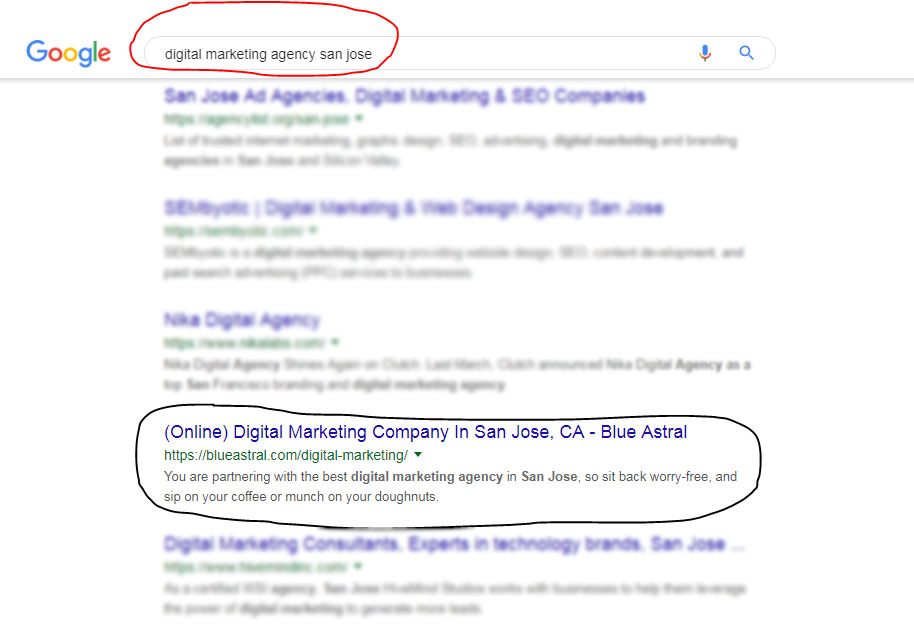 Look for an Experienced Team
Several digital marketing and SEO companies spring up now and then. However, most of them cannot fetch good business and often shut down within a few months or years. The number of years an SEO company has successfully survived in the industry speaks volumes about its work quality. So, do check the number of years one has been operational and the number of projects handled.
Know the Outcome
You will get to know the brands an SEO company is associated with by visiting its website. But this alone should not be a deciding factor for you to appoint it for handling SEO for your brand. It is suggested to do some research to determine how this SEO agency helped its clients fetch more business and how long their collaboration lasted. Try to determine if that brand saw an upward trend after it collaborated with that SEO agency and its SEO strategies to further this aim.
This will require some effort, but it is not impossible. Knowing the outcome is essential as it helps you understand vis-à-vis how effective the strategies adopted by your potential associate are.
Get First Hand Feedback
Every digital marketing and SEO agency has a well-designed website that gives a detailed account of its services. The site also contains testimonials of many of its clients. Not all these testimonials can be trusted. Similarly, you will get reviews about digital marketing and SEO agencies online, and not all of these are genuine. Many of these are paid reviews posted in an attempt to earn goodwill in the market. It would be best if you did not rely on these. Instead, please make an effort to get in touch with their clients to get firsthand feedback on their work and working style.
Widen Your Search
Do not opt for an SEO agency just because it is located in your vicinity. The only advantage you will have here is that you can visit them frequently and discuss your requirements personally. But do you really need to limit your search owing to this factor in this digital era? No! It is advised to shortlist SEO companies worldwide considering the points mentioned above and then drill down to the best available option.
Discuss Your Requirement
Once you have shortlisted a few SEO agencies, it is time to discuss your requirements with them and understand how they will further your objective. Discuss the kind of strategies they intend to use and also understand their style of working. This will help you figure out which one is best suited for you among the ones shortlisted.
Don't Hesitate to Shell Out Some Money.
We know budget is one of the main factors to be considered while choosing any product or service. But opting for a less efficient agency just because it comes well within your budget is not a wise thing to do. If the agency cannot accomplish the assigned task, what is the whole point of hiring it? It would be best if you did not mind paying a few extra bucks to collaborate with an agency with a proven track record. You will know the amount being paid is worth it when you see the returns coming.
We hope the points mentioned here simplify your search and help you find the right SEO agency for your business. If you have any questions, reach out to us.